In Year 4, we have been discussing the effects of smoking upon the health of those who choose to smoke, as well as the effects it has on those around them.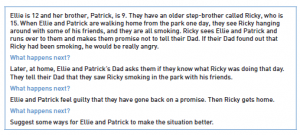 A posed scenario led to a little role play in Mr Morgan's class whereupon Ricky in the scanarios was seen smoking by his younger siblings who he made promise not to tell their Dad. The promise was a little to hard to keep and Dad was told in the best interest of Ricky.
Here are some of the children in Year 4's opinions of smoking…
We then discussed the reasons as to why people choose to smoke and identified that it is often as a result of peer pressure and wanting to fit in.
We all agreed that smoking is a habit that comes with many risks to our health and that having a better understanding of the impact and effects it has can help us to make better, healthier choices and say NO to being pressured into doing something we do not want to do just to fit in!!!