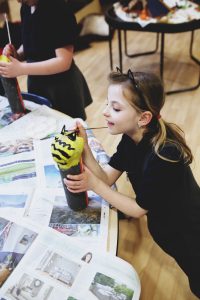 Governors normally meet once a term to receive reports from the Headteacher on the life and work of the school. Members of staff also report to Governors at the termly meetings, and this usually takes the form of an in-depth look at some aspect of the whole curriculum; termly meetings are held at the school.
The Governing Body has formed several Committees, which focus on particular aspects of the Governors' responsibilities e.g. Finance, Curriculum, Staffing and Premises.
With the wider powers given them by recent legislation Governors have a very significant role to play in ensuring that, along with the Headteacher and colleagues, they move the school forward in a coherent, cohesive way.
The 4 core strategic functions of the Governing Body are:
Ensuring clarity of vision, ethos, values and strategic direction;
Holding the Head teacher to account for the educational performance of the school and its pupils;
Overseeing the financial performance of the school and making sure its money is well spent;
Ensuring the School complies with statutory obligations.
Governors
Chair of Governors: Mr Alan Cornwall
Vice Chair of Governors: 
Co-opted Governors:  Mrs Nic Loten, Mrs Clare Powell, Mrs Rachel Richardson
Parent Governors: Mrs Rachel Bird
Staff Governors:  Mrs Jane Marson, Mrs Laura Leeman and Mr Alan Clarke
Our Chair of Governors can be contacted at:
Christopher Pickering Primary School
The Compass
1 Burnham Road
HULL
HU4 7EB
Full governing body details:
Governor-Attendance-and-Business-Interests-2021-2022
Governance Diagram – Trust Wide