Our focus this term in our Healthy Me! unit of Jigsaw has so far enabled us to reflect on the friendships we have formed within the communities we belong to.  We discussed the fragility of friendships and agreed that to maintain a friendship we need to be tolerant, accepting, loyal, respectful, kind and forgiving. 
We then focused on Group Dynamics and how within groups there are often leaders and followers and that working together to be inclusive is a must.  Discussions then centred around a posed scenario about a P.E lesson whereby certain individuals took it upon themselves to take charge, one individual did not want to be part of the P.E lesson and so removed themselves from the situation and another had a valid contribution to make but was finding it too difficult to be heard or included.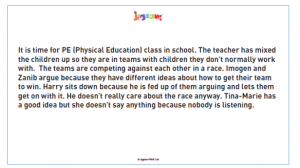 The children then had to work collaboratively to identify the leaders, followers and by-standers within the posed scenarios group dynamic.
From this, we then compared our own group's dynamics and found that we all took on differing roles where some of our peers became leaders, followers and bystanders. This led the children to conclude that they need to be more aware that everyone feels included and valued,  not only when working collaboratively as a group, but in all the learning activities we work upon within the learning environment.