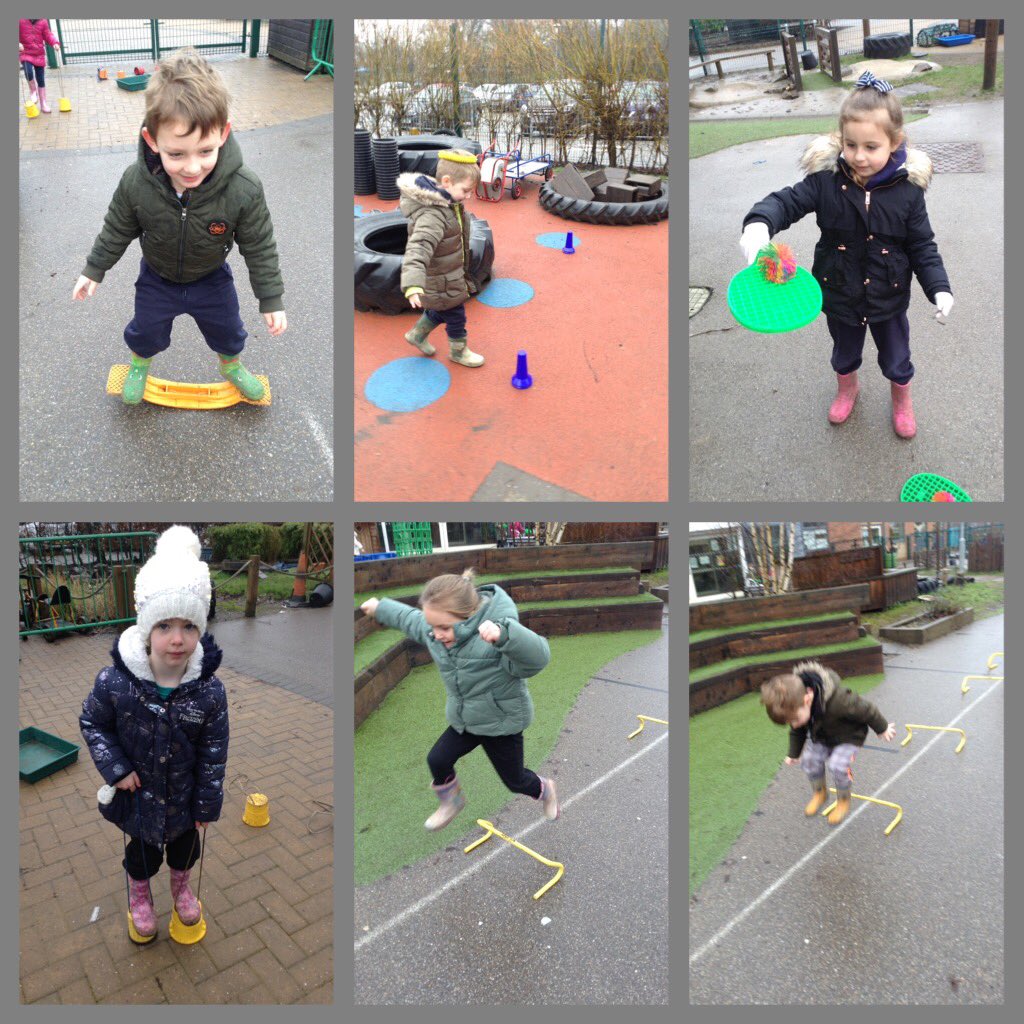 Today was our second HAS virtual competition and this time it was sportshall athletics.
This competition followed the British Pentathlon's format of five events: 10x10m shuttle, standing long jump, vertical jump, chest push and speed bounce. All children completed the events and their scores have been sent in to find out how we fared against the other Hull Schools. Our home learners also took part virtually and we had lots of scores submitted which have been passed on to HAS. However, we did also have out own competition and worked out the winning girls and winning boys. Well done Y4, you've all done fantastic!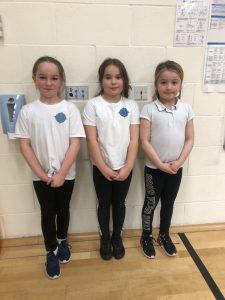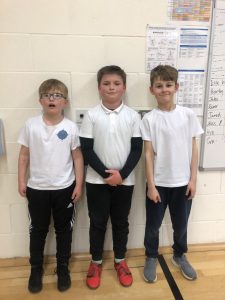 Our top three girls: Issy (1st), Alesha (2nd) and Ava (3rd) & top three boys: Ewan (1st), Connor (2nd) and Jake (3rd).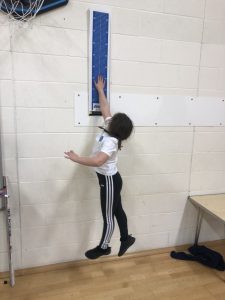 Issy demonstrating the vertical jump.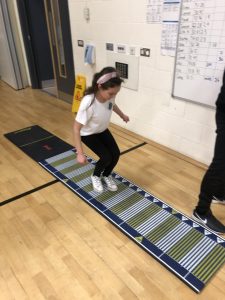 Jessica with a superb long jump.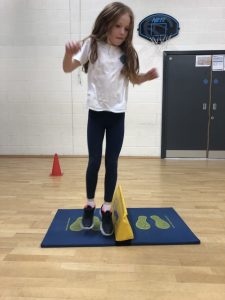 Speed bound is probably the toughest event, here is Evie giving it her best! 
Over the past few weeks, Year 6 have thoroughly enjoyed learning all about the Brazilian carnival and the dances in involves. We have formed our own samba schools and learned all about the history of samba. We have been working hard to create out own rhythmic dance sequences and have even learned some new Brazilian words along the way! We have learned about various choreographic structures including 'canon' and 'unison' and have explored how we can use our bodies to create levels within our dances.
Here are some of our still images of us creating the cityscape of Rio de Janeiro: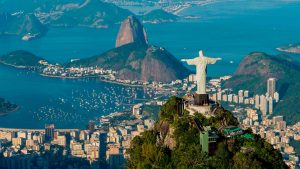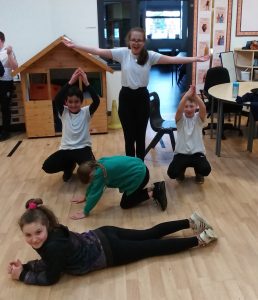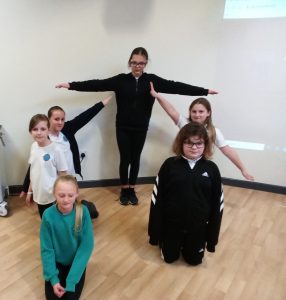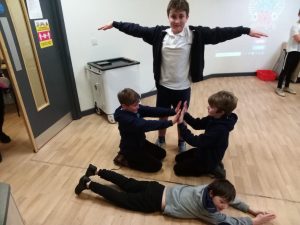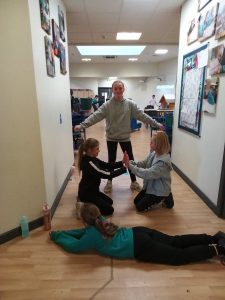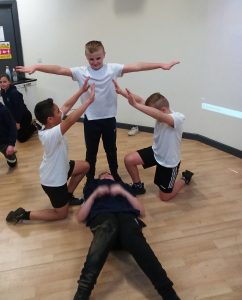 Over the past three weeks, Year 5 have thoroughly enjoyed their mindfulness sessions in PE. They have learned techniques for calming themselves down when they're feeling frustrated or angry and exercises that they can do in the morning to prepare themselves for the day.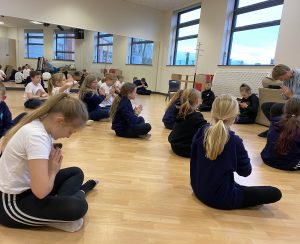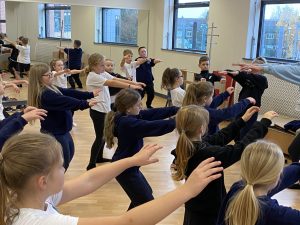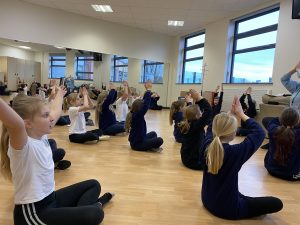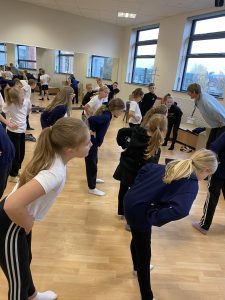 In F1 we are currently taking part in the Winter and Christmas unit of work. In this unit we learn the characteristics of winter through movement. Yesterday we were developing our ability to move confidently in a variety or ways.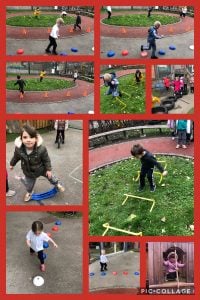 This week during PE, we have been working on our physical development.
We have been focussing on our overall body strength, balance, co-ordination and agility and developing and refining our ball skills, by catching throwing and aiming.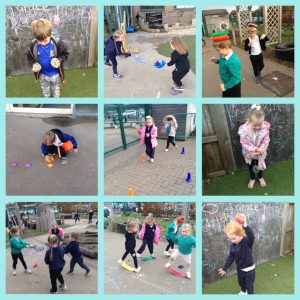 On our obstacle course, we were able to practise moving more fluently, with developing control, balance and spacial awareness.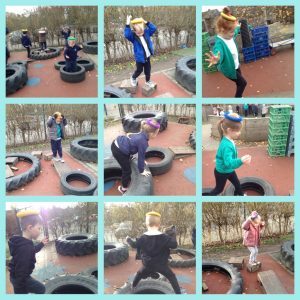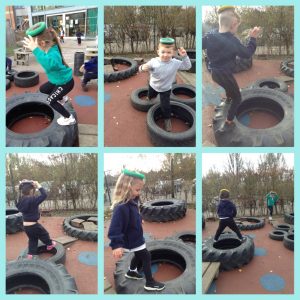 We used the hurdles, to practise our jumping and landing skills.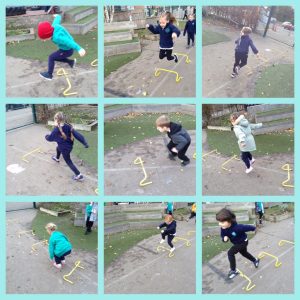 We all all had a amazing time…regular exercise helps to keep us healthy and happy!
What a fabulous day!
It was fun to come to school dressed in our Pudsey bear, sporty and spotty clothes… we all looked amazing.
We found out about where all the money raised goes and how it helps children with food, toys and a safe place to live.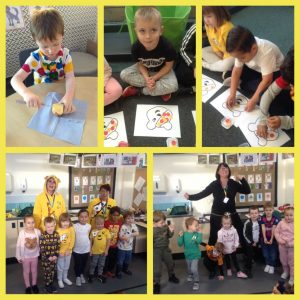 We exercised with Joe Wicks, put on the correct number of counters and made patterns on Pudsey's scarf during Maths, painted, glued and stuck on Pudsey faces and we even decorated our own Children in Need buns to take home…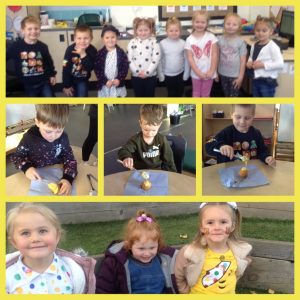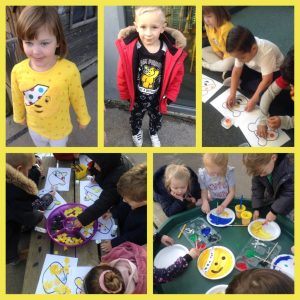 …it was a wonderful day 💛☺️💛
Year 4 have continued to advance their footballing skills. This week they practiced keeping possession and evading opponents by turning. They practiced two different techniques the first being the drag back.
However, they were excited to try the Cryuff turn named after the Dutch footballer Johan Cryuff! How do you think we did!? Have a look at the videos below!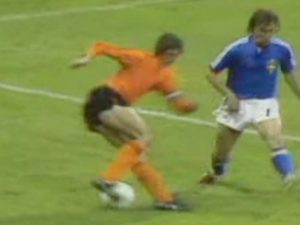 The creator of the 'Cryuff Turn' Johan Cryuff at the '74 World Cup
\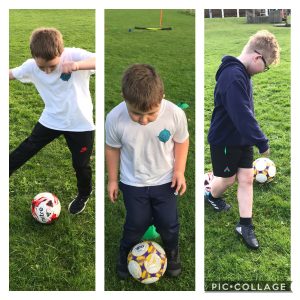 Practising this drag-backs and Cryuff turns
During PE this week we found out about how water changes … first we felt the water, it felt soft and squishy..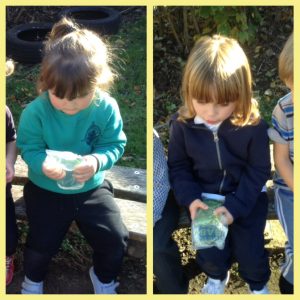 …then we felt the ice, it was very cold! It was slippery too and we even gave it a smell…it made our noses cold!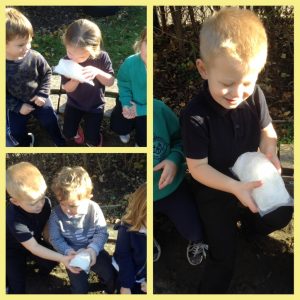 We talked about how Jack Frost makes water freeze and how the beautiful sunshine makes it melt.
Then, we all moved around in different ways and then we practised 'freezing'.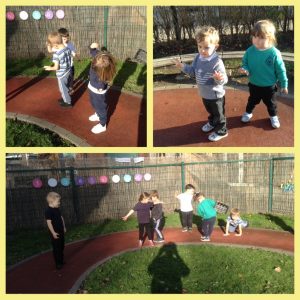 After that, we took it in turns to be Jack Frost, when he touches you you must stop and freeze! It was good fun and we were all so good at following instructions.
Next, we took turns to be the sunshine – if you had been frozen, once the sunshine touches you, you melted and could move again.
We were very clever at stopping, starting, changing direction and freezing.
Finally, we practised jogging, jumping, skipping and hopping too, we are very good at moving around outside carefully.
Today was our first lesson on ball skills in Y1 and we all loved it!
We learned lots about how to control the ball, what dribbling means and how many different ways we could send a ball!
We also looked at why we have to keep our eye on the ball and why we have to be accurate when we are throwing!