Over the last few weeks, Y4 have been working hard on creating their Christmas Light boxes for this term's Design and Technology project.
Investigate
The journey started with investigating light-up Christmas items which are very popular the time of the year. The children loved taking these apart and making links between components, design and materials. They identified the key parts they would need in their boxes: a switch, wires, a bulb and batteries.
Focussed Practical Task
One tricky part of our project was creating the box which would hold all of their components and be able to display their design. We spent a lesson focussing on how to use nets to create three dimensional shapes. Children created a wide variety of shapes in varying difficulty. Some were very challenging and were tricky to assemble!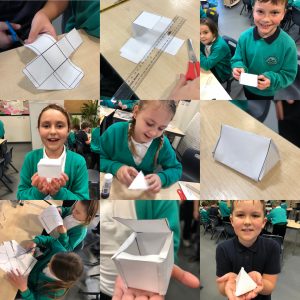 Focussed Practical Task: Making Nets
Design
The next step was to design their boxes. Children made a plan drawing of the inside and outside of their net. They also make a wiring diagram so they new how much wire they would need and where their components would go. They also finalised a design for a switch using split pins and paper clips.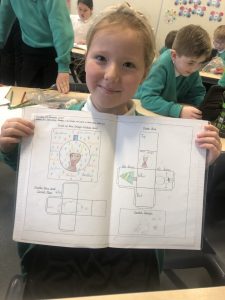 Ready to make: Summer with her final design!
Making 
The next step was very exciting –  the children were finally ready to make their light boxes! They uses scissors to cut out their nets, used pencils, felt tip and pen to decorate it, electrical pliers to cut and strip the wires and clue and tape to fasten their materials together.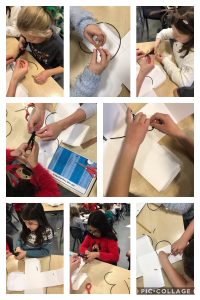 The finished product
The Light Boxes turned out fantastic! The children all worked really hard on them and we are super proud of what they have achieved. As with any process, some parts were harder from others and the children have fed back some small changes we will make for the next children who will make these, but overall it was a huge success!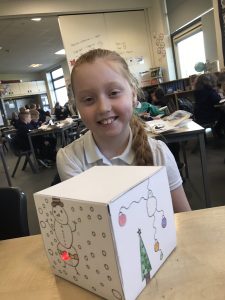 Phoebe's snowman light-box ready for Christmas!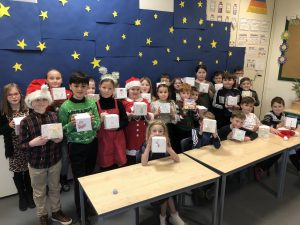 Mr Morgan's class were very please with their work!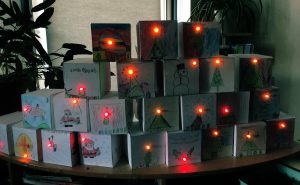 Home-made switches working perfectly! 
If you'd like to make one of our boxes, follow our 'How to' video below!