Tonight our boys played in the EFL Kids Kup qualifier at Hull University. The group games got off to a good start with a 3-0 win against St Nicholas Primary. The second game was a tough match against Neasden Primary. After taking the lead initially, the boys lost the game in the last seconds 2-1. A confident show in the next game saw them beat Marfleet 2-1. Their last game was vary tight, but the boys kept their composure to see off a strong Broadacre side 1-0.
Unfortunately, the boys finished second in their group by one point – the loss against Neasden costing them a spot in the final match. Despite the result, it was a good opportunity to test themselves against some trickier competition with the Humberside Finals looming next week.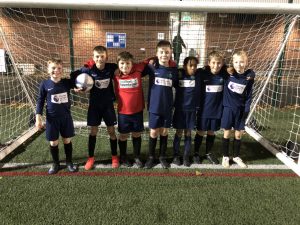 Kacper (2nd from left) scored three fantastic headers from corners! Well done!