After numerous set backs due to COVID19, our Sports Scholarship programme finally got underway this week starting with our Y4 gifted and talented sports stars. This is a brand new programme which we are trialling this year in partnership with Tigers Trust and has several key aims:
Aims
To provide children with new sporting experiences and opportunities
To allow gifted and talented children opportunities to apply and transfer their current skills to new sports
To provide children with pathways into local sports clubs where they can excel
To help children develop a deeper understanding of sporting values and how these can be applied to other areas of their learning.
To identify and develop sporting skills to help children reach their sporting potential
To show children how to live a healthy life and he a healthy sports person
To develop children as young sports leaders and officiators.
Tchoukball
In this first session, children got a chance to transfer and apply their skills to a game which they had never played before: Tschoukball. This fast-paced, five-aside game requires speed,  agility and quick thinking to score by throwing the ball at  a special rebound net so that it bounces outride 'the forbidden zone' and hits the floor of the court. It is an advanced invasion game and there are a several complicated rules to understand. One rule which really challenged the children was the restriction on being able to intercept a pass. With this law of the game, children were forced to really rethink their previously learned tactics of defence!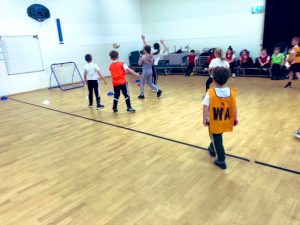 Where to score?: In Tschoukball, points can be scored at either end of the court, making defending a larger area much more difficult.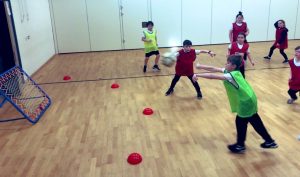 A new defensive mindset: Ewan can be seen here ready to catch the rebound to save conceding – intercepting the ball isn't allowed!
We finished the session by challenging the children to come up with ways we could adapt one sport to practise and consolidate the skills of another. Together, we found the perfect solution: Kick rounders! Children were not allowed to pick the ball up (unless catching someone out) so had to practise their short, mid and long passes to get each other out. It was great to finally get out in the sun after a few weeks of poor weather!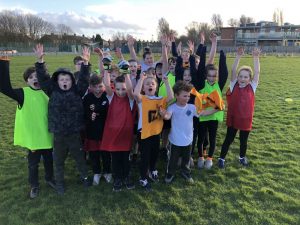 Enjoying their outdoor session: Our Y4 Sports Stars