Yesterday, Y4 embarked on their field trip to 'The Great Forest of Yorkshire' Dalby Forest! What a fantastic day we had! Children, you were fantastic and were all amazing geographers and ambassadors for the school. Here's how the day went:
Sniverdale Rabbit Run Hike – 2.2miles. 
The purpose of our hike was to compete a native forest with what we have learned about the rainforests of the world. Children identified the types of trees and quickly found that the area of the forest we were in was predominantly evergreen. We veered off the track and explored the forest floor to find that little grew there and the understory and canopy was pretty much non-existent. Children enjoyed feeling the spongy masses of needles under their feet! On the hike, we also found an area of trees which was cut down. After initial cries of 'DEFORESTATION!', we soon learned that this was a larch planation. Counting the rings of the trees we learned that they were planted around 60-70 years ago and were now being cropped for timber and more would be planted in their place. Relief!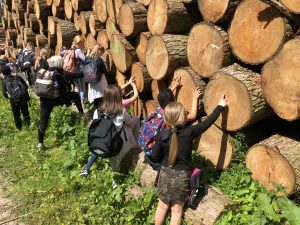 Counting the rings of the larch logs
C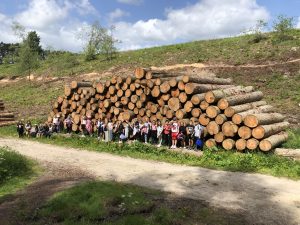 "So it's like a farm but it just takes ages to grow before you can harvest them"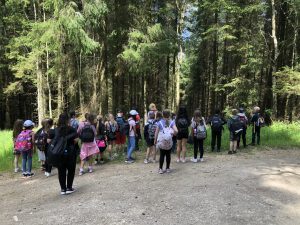 Enjoying the sights and sounds of the beautiful forest.
Field Studies
The next part of our trip was some field studies. We had a number of activities to complete. First, there was some measuring of trees and calculating their age and heights. We also samples leaves and discussed the different trees produce seeds and reproduce. Children were also very excited complete our field studies in Dalby Beck which runs along the dale. In the water, children measured the water depth, the speed of he river and investigate the river bed. This was very enjoyable but quite cold!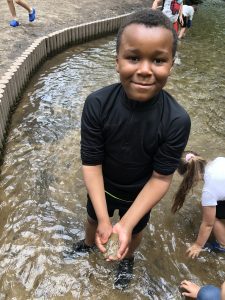 Farai with a river bed sample!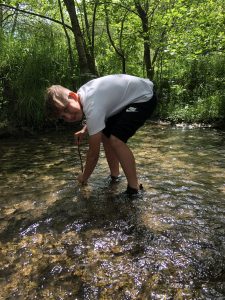 Kye measuring the depth with a stick which was then measured against a tape measure.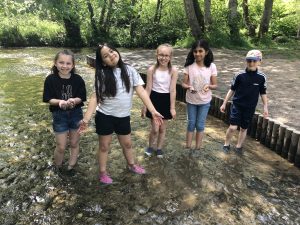 Lacie, Sophia, Olivia, Fatima and Noah sampled different areas of the river bed and found different materials from large rocks to fine sand.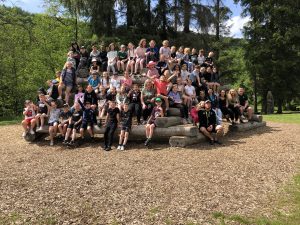 Year 4 Dalby Forest 2022! Well done children and thank you for a fantastic day out!