Music at Christopher Pickering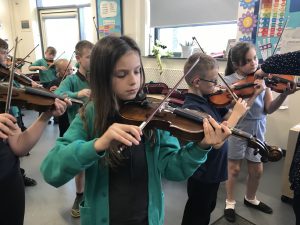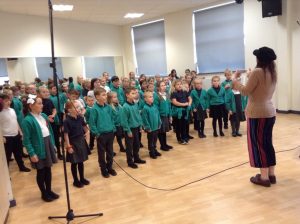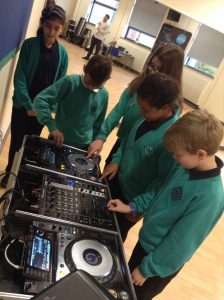 "Music gives a soul to the universe, wings to the mind, flight to the imagination and life to everything." ― Plato
 At Christopher Pickering, we ensure that our music curriculum is tailored, so there is something for everyone. We provide an inclusive journey of music throughout history, from the Early Period to the Renaissance and Classical up until music from the 21st Century. We implement a broad, balanced and ambitious educational program, consisting of the full coverage of the National Curriculum and an inspiring voyage, where learning skills and acquiring a deep knowledge of the subject is key.
Intent
At Christopher Pickering Primary School, children gain a firm understanding of what music is through listening, singing, playing, evaluating, analysing, and composing across a wide variety of historical periods, styles, traditions, and musical genres including  music technology.
We are committed to developing a curiosity for the subject, as well as an understanding and acceptance of the validity and importance of all types of music, and an unbiased respect for the role that music may wish to be expressed in any person's life.
We aim to provide children with the opportunity to progress to the next level of their creative excellence through three main pillars;
Technical, Constructive and Expressive 
                                           🎵🎵🎵🎵🎵🎵🎵🎵🎵🎵🎵🎵🎵🎵🎵
Implementation
The music curriculum ensures children sing, listen, appraise, play, perform and evaluate. This is embedded in the classroom activities as well as the weekly singing assemblies, various concerts and performances and the learning of instruments.
Through the musical program Charanga and some of our bespoke units of work, teachers are able to produce inclusive lessons for all children to access the musical curriculum in a fun and engaging way, further promoting a love of learning. Teachers deliver music following the Charanga programme, designed specifically for the teaching of music in primary schools. All lessons are planned in sequences to provide children with the opportunities to review, remember, deepen and apply their understanding.
A progressive curriculum ensures that children have firm foundations to build their skills and knowledge. In EYFS we begin to nature a love of music in the children. They have opportunities to explore different instruments as part of their play. Children also learn more complex songs and think more about how they use their voice.
In Key Stage 1, un-tuned and basic one tone instruments are used to teach the children the fundamentals of playing. Using percussion instruments and the 'Boom Whackers' the children develop rhythm, timing, passion and learn to work together as a team or 'band'. They also get the opportunity to use a basic composition system to write a piece of music. Children also learn the first steps needed for appraising music. They begin to understand that the language of music is universal and that it can bring people together.
These skills are then further developed as the children move to Key Stage 2. Here children will be taught to play the glockenspiel and the reorder. They will learn to read music from the stave as well as write music for their compositions and from their improvisations. They will delve into the history of music to study famous composers such as Bach, Beethoven and Debussy. In contrast with this they will learn to appreciate musicians such as the Beatles, Vera Lynn, and Bob Marley. Many of the music led enquiries are immersive and are part of the children's wider curriculum. For example Vera Lynn will be studied when the children are learning about the war in history; This will provider context and produce a richer understanding of the music.
The elements of music are taught in classroom lessons so that children are able to use some of the language of music to dissect it, and understand how it is made, played, appreciated and analysed. Playing various instruments enables children to use a range of methods to create notes, as well as how to read basic music notation. They also learn how to compose, focusing on different dimensions of music, which in turn feeds their understanding when listening, playing, or analysing music. Composing or performing using body percussion and vocal sounds is also part of the curriculum, which develops the understanding of musical elements without the added complexity of an instrument.
      🎵🎵🎵🎵🎵🎵🎵🎵🎵🎵🎵🎵🎵🎵🎵
    Impact
Music enables children to develop an understanding of culture and history, both in relation to children individually, as well as ethnicities from across the world.
Children are able to enjoy music in as many ways as they choose – either as listener, creator or performer. Children have the opportunity to discuss and share their own thoughts, opinions and ideas, acknowledging and respecting that these may vary and that this is positive. They can dissect music and comprehend its parts. They can sing and feel a pulse.
At Christopher Pickering Primary School children are provided with opportunities beyond the National Curriculum to further and support their understanding. These include having visitors with a musical talent, visiting concerts and school productions. External interests and talents are also encouraged and showcased in class and assembly, ensuring that everyone is challenged regardless of previous musical experience. Children have an understanding of how to further develop skills less known to them, should they ever develop an interest in their lives.
All children will be able to play at least one instrument and will have the skills for appraising, composing and improvising. As well as knowledge about music that shaped what we hear in the charts today. We aim to provide a joy in learning  though this music curriculum and an experience which will stay with the children for years to come.